Struggling to make it to Pay Day? Make some extra cash today by scrapping your car in Crystal Palace or Norbury!
Here at Car Scrap Surrey, we will offer you the best price for your scrap car in Crystal Palace, Norbury or one of the nearby areas. Our service is efficient, fast and flexible, so if you are scratching your head, thinking "I want to scrap my car," we are the team to call! Whether your car or van has a list of expensive MOT failures and it would cost more to put right than it is worth, its been damaged in an accident, or it is just gathering dust in your garage and you want to get rid of it fast, we will offer you up to £150 cash today for a family-sized car.
Here at Car Scrap Surrey, we accept all makes, ages and conditions and are available 365 days a year, 24 hours a day, so you can call us at a time that is convenient to you. We will take care of everything for you, from collection to safe disposal and guarantee a cash collection on inspection of your vehicle. All you have to do now is think about how you would like to spend the money!
We recycle every vehicle – we de-pollute it, remove all liquids and fully recycle the car.
We fill out all the valid DVLA paperwork and issue you with a free Certificate of Destruction so you know your car will not end up back on the road illegally.
We are car recycling experts with over three decades of experience in the scrap metal industry and can give you advice or help at any time.
We work round the clock so we can accommodate your schedule.
Unlike other car breakers, there are no hidden charges, like admin fees or collection fees.
We are an established Authorised Treatment Facility and we are the first-port of-call for many people in your local area.
So why not call Car Scrap Surrey to get your free, no-obligation quote today? We can be reached on 020 8406 4181 or 07716 551 934.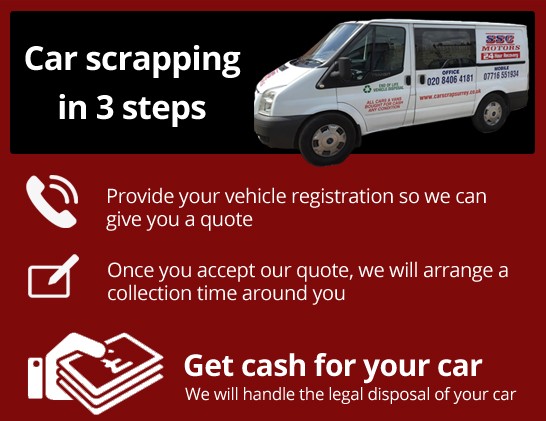 Say goodbye to your scrap car in Crystal Palace with Car Scrap Surrey!
It can be hard when it comes to parting ways with a much-loved vehicle but at Car Scrap Surrey, we take the stress out of the process.
Add some basic details of your scrap car, like the make, mileage and condition into our online form or call us on 020 8406 4181 and we will give you a quote.
You can choose whether you want to accept the quote and if you do, we can arrange a time to pick your car up.
One of our friendly and reliable drivers will come to the specified address and as long as the vehicle is as you described it, they will pay you there and then or we can arrange a bank transfer.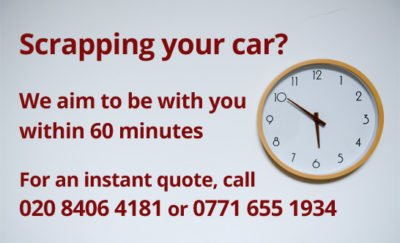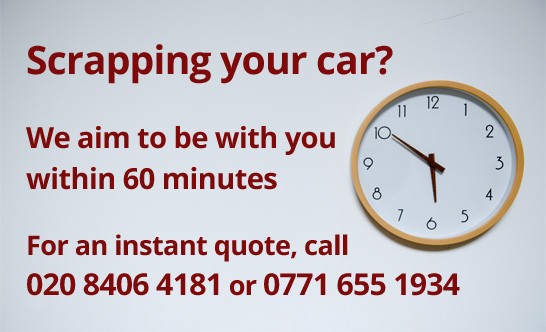 Scrap your car today by calling our car breakers in Crystal Palace!
Contacting Car Scrap Surrey is easy! Pick up the phone and ring us on 020 8406 4181 for more information.
We pay competitive cash prices for any car or van collected within the marked area.
Read our guide on finding out what your scrap car is worth.
We'll take any non-runner or MOT failure vehicle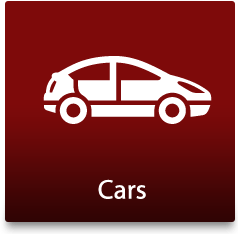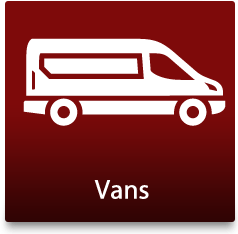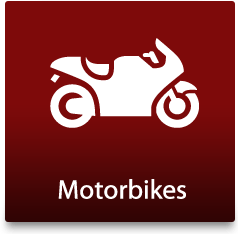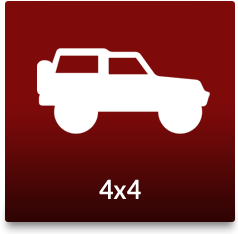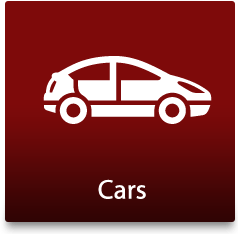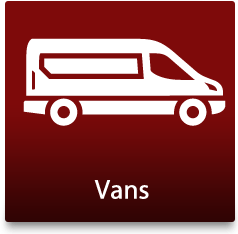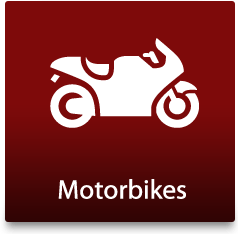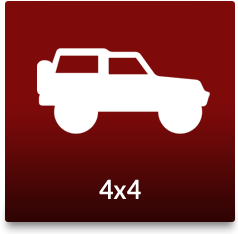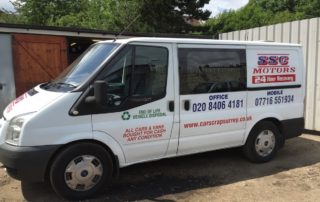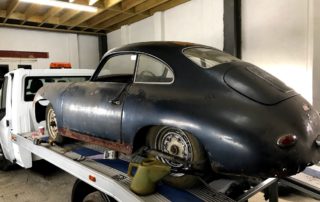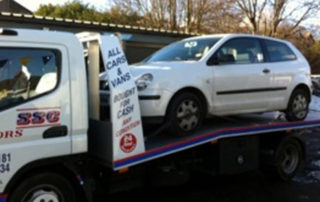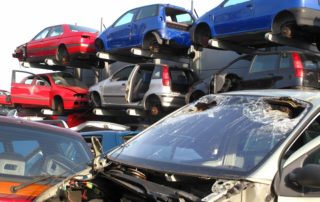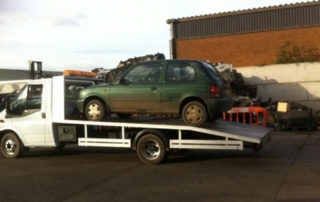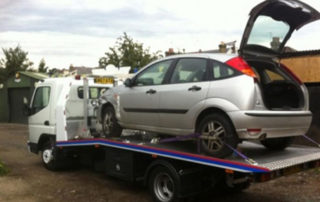 We collect….
Audi, Aston Martin, BMW, Citroen, Fiat, Ford, Honda, Jaguar, Kia, Lexus, Mazda, Mercedes, MINI, Peugeot, Renault, Saab, Skoda, SEAT, Subaru, Toyota, Vauxhall, Volkswagen & Volvo
…from…
Norwood, West Dulwich, West Norwood, Upper Norwood, Lower Norwood, Forest Hill, Beckenham, and Elmers End
including the following postcodes –
SE19, SE20, SE21, SE22, SE23, SE26, SE27