Want cash in hand for your scrap car in Woodmansterne? We pay you!
Welcome to Car Scrap Surrey! We have been scrapping cars for over 30 years in Woodmansterne, Hackbridge and the surrounding areas of Surrey, so if you want to scrap your car, van or motorbike and earn instant cash then you have come to the right place!
We buy MOT failures, written off cars, damaged and unwanted vehicles and we will also help you with the required legal paperwork and dispose of your vehicle quickly, responsible and efficiently.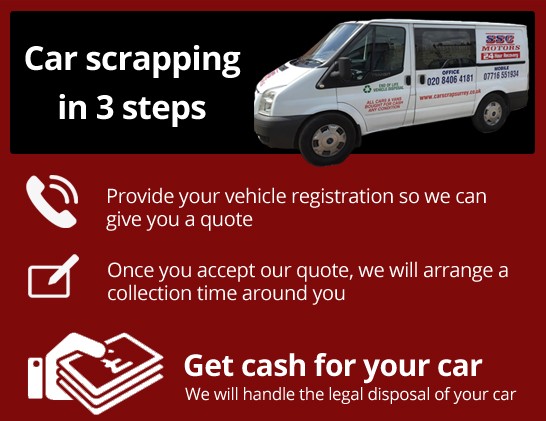 Car scrap quotes in Woodmansterne
The process is simple. You give us a few details about your vehicle and we will contact you with the best prices for your scrap car. Our car scrapping service is easy and completely flexible. We work 24 hours a day and seven days a week so we can collect your car at a convenient time for you. We pay up to £150 for a family–sized vehicle and unlike other car scrapping companies; we won't charge extra for collection or administration.
Call us today on 020 8406 4181 and talk to one of our friendly team. All we need is proof of ownership and you could be walking away today with cash in  your pocket!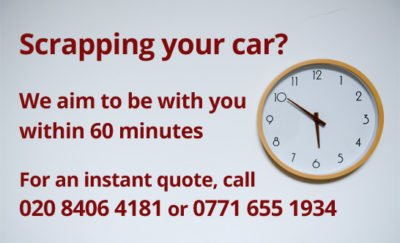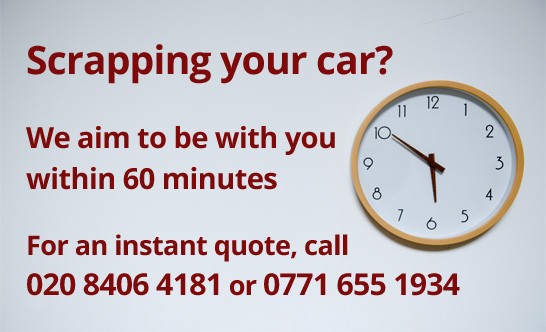 Other reasons to choose us for your car recycling in Woodmansterne
We know there is other car scrapping companies looking for your business, but here are just a few promises from us to you:
We offer an efficient, professional and reliable service every time
We take MOT failures, tax expired vehicles, write offs, discarded or dumped vehicles of any model, age and condition
Every quote we give in unique – we evaluate the best possible price for your vehicle
We will complete all the relevant paperwork and documentation for you
We offer comprehensive metal recovery and removal services, ranging from small domestic items to large site clearances
We also provide vehicle recovery for all types of vehicles throughout Woodmansterne and Surrey
We will remove every component of your scrap vehicle before it is crushed to reduce landfill waste to help protect the future of our planet
By recycling your car you also help save on raw materials in manufacturing and by buying amore energy efficient car, help reduce CO2 emissions
Read about more about how metal recycling and car scrapping benefits the environment on our blog, here.
"Scrap my car?" Yes we can! Call us today!
If your vehicle needs to be scrapped and you want to earn some money, give our friendly car breakers team a call today on 020 8406 4181. Connect with us via Facebook and twitter for all the car scrapping news.
We pay competitive cash prices for any car or van collected within the marked area.
Read our guide on finding out what your scrap car is worth.
We'll take any non-runner or MOT failure vehicle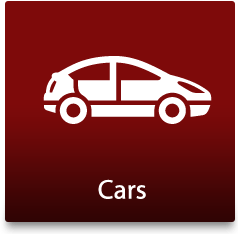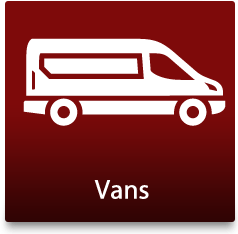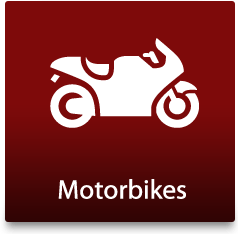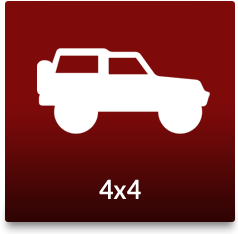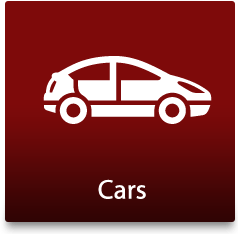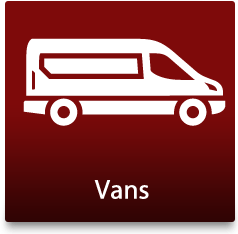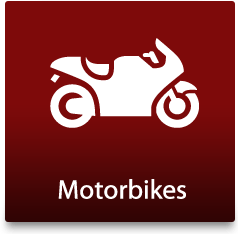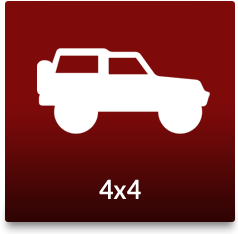 We collect….
Audi, Aston Martin, BMW, Citroen, Fiat, Ford, Honda, Jaguar, Kia, Lexus, Mazda, Mercedes, MINI, Peugeot, Renault, Saab, Skoda, SEAT, Subaru, Toyota, Vauxhall, Volkswagen & Volvo