Car scrap removal and cars for cash in and around Norwood, London
Would you like to sell your scrap car for cash in Norwood, Herne Hill or one of the nearby areas of London? Car Scrap Surrey offers convenient, professional and straightforward car scrappage throughout the local areas. We dismantle all vehicles and vans at our car breakers yard, recycling as much as possible.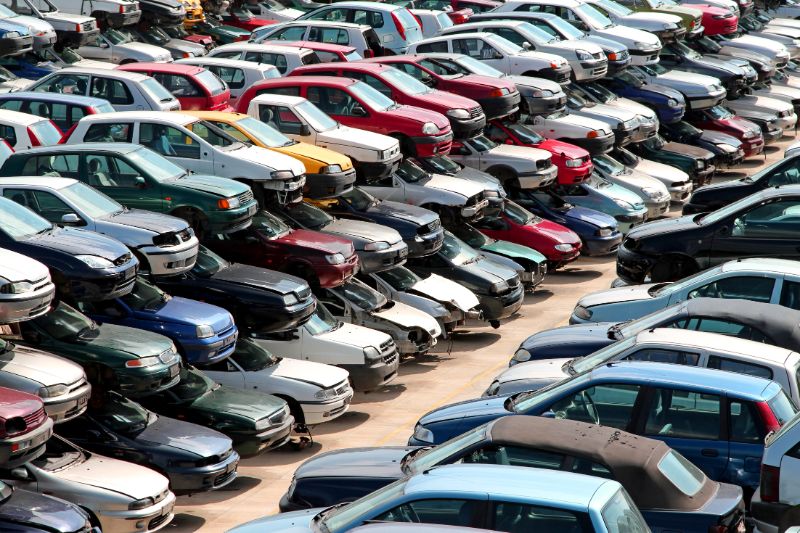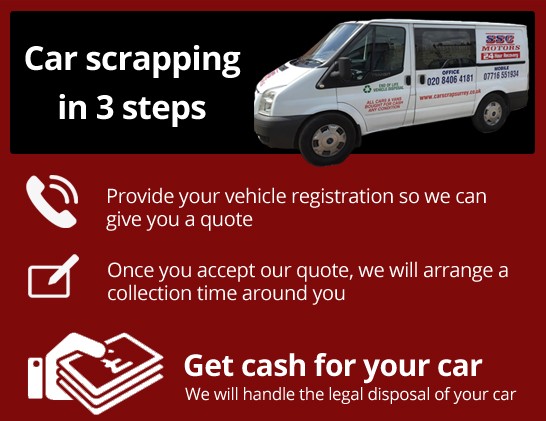 Our friendly team can provide you with a quick quote to take away your car at your convenience. We take all makes, models and vehicles, including MOT failures, non-runners, accident-damaged cars, salvage cars and more. Our car breakers will give you the best deal for your scrap car or scrap metal.
Our service includes free car collection and we never charge you for de-polluting your car. We have been in the car scrapping industry for over 30 years, so we have sound knowledge of car recycling, car breaking and the surrounding issues. We always aim to dispose of vehicles in the most environmentally-friendly way and work within strict frameworks.
We partner with an authorised treatment facility (ATF), so the cars, vans and motorbikes we collect are processed and recycled in the same way.
Our professional car scrapping team can advise you and offer advice at any time
We only offer the best prices for scrap cars – with no hidden costs
Age, make, model and type of vehicle not an issue – we buy them all!
We work throughout the local areas, including in Dulwich and Raynes Park
We work 24 hours a day and can your scrap time at a time that is convenient for you
We also buy salvage cars that are less than 10 years old and can give you an excellent price
You can make up to £150 today for a family-sized scrap car
We sort out all paperwork including giving you a Certificate of Destruction, so you know your End of Life vehicle will be dealt with in the correct way
Alongside expert car scrapping, we also buy and collect scrap metal and offer a car breakdown and recovery service.
Are you looking for a reputable car scrap yard near you? Call our team now on 020 8406 4181.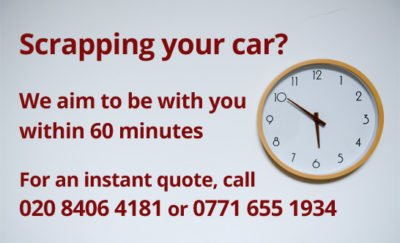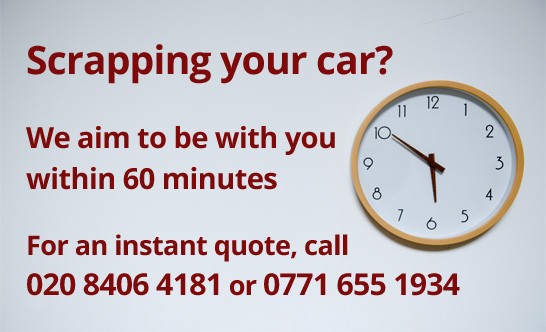 I need to scrap my car! Scrap car collection near Herne Hill (SE21)
If you have owned your car for a few years and feel attached to it, it can feel like a big deal to scrap your car. There are many reasons that you might decide that this is the best option:
If your car is too old or damaged to be sold privately, then scrapping it will be the best option
Selling your car can be time-consuming, so deciding to scrap it will save you the time involved in advertising it and people coming to view it
If your car is no longer safe to drive, or has been written off, it will take up valuable space on your drive or in a garage
Even if your car is safe to drive but is breaking down regularly and costing you a lot of money to repair, scrapping it could be a cost-effective choice
Apart of the benefits to you, scrapping your car is also beneficial for the environment. We will always salvage useable parts before recycling as much as we can in line with best practice guidelines. Scrap metals can be reused in numerous ways and can even be used to manufacture new materials.
We pay competitive cash prices for any car or van collected within the marked area.
Read our guide on finding out what your scrap car is worth.
We'll take any non-runner or MOT failure vehicle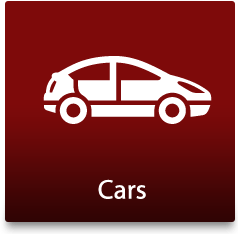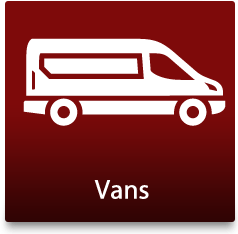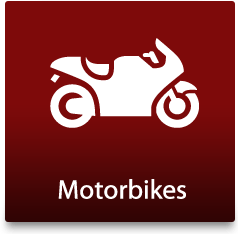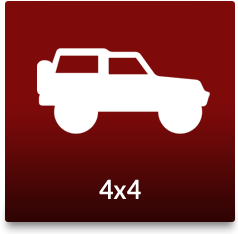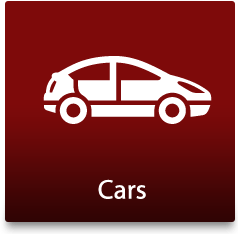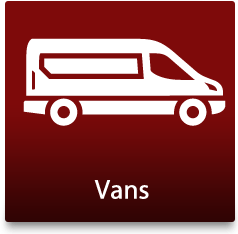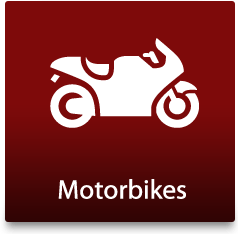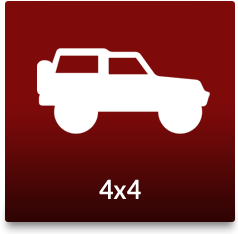 Norwood car scrapping: How does it work?
We want to make scrapping your car as easy as possible.
Call us or enter your car registration and a few details to get a quote
Once you have agreed the price, we arrange a time to collect your scrap car or other vehicle – collection is completely free!
We deal with the DVLA paperwork and pay you for your car
Your car is recycled at an authorised treatment facility
Read our blog on how to get the best price for scrapping your car.
We pay the best scrap metal prices in SE21
We can recycle scrap metal using the latest equipment. We buy all non-ferrous metals – and will collect it from you.
Aluminium
Copper
Lead
Stainless steel
Brass
Catalytic converters
Get a competitive car scrap quote from our team in Norwood now!
We pay top prices for scrap cars! Call us now on 020 8406 418 or email info@carscrapsurrey.co.uk
We collect….
Audi, Aston Martin, BMW, Citroen, Fiat, Ford, Honda, Jaguar, Kia, Lexus, Mazda, Mercedes, MINI, Peugeot, Renault, Saab, Skoda, SEAT, Subaru, Toyota, Vauxhall, Volkswagen & Volvo
Areas we collect your car for recycling: –
South Norwood
Elmers End
Lower Norwood
Upper Norwood
West Norwood
SE19, SE20, SE21, SE22, SE23, SE26, SE27