If you've been wondering 'how do I scrap my car?', you may be under the impression it's a complicated process. However, if you work with a reputable, licensed car scrap company, they'll make things easy for you from the moment you get in touch. Here's everything you need to know.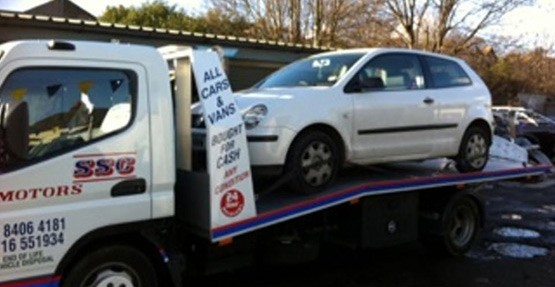 Where Can I Scrap My Car?
One of the best things about scrapping your car is that it doesn't need to be roadworthy. Regardless of the age, model and condition, you can scrap it even if it has failed its MOT or has been written off. You can also scrap other vehicles such as a motorcycle or van.
Rather than paying expensive repair fees, if you're asking 'where can I scrap my car?' the answer lies in using a licensed car scrap expert who can give you the best prices for your scrap car. They operate as an Authorised Treatment Facility (ATF), approved by the Environmental Agency to carry out the work. It means they comply with safety and quality standards when dealing with waste.
How Do I Scrap My Car?
When you scrap your car, the process is fast and straightforward, keeping things hassle-free for you. Here at Car Scrap Surrey, we ask you to give us a call to let us know your vehicle registration. From here, we'll offer you a quote (with no hidden costs), and if you're happy, we can then arrange for your vehicle to be collected. A good scrap dealer will come out to you for free, so you won't have to drop your car off anywhere. If you want cash for cars, the dealer can perform an immediate bank transfer of funds before organising the legal disposal of your car.
Can You Scrap a Car without a V5?
If you want to know 'can you scrap a car without a V5?', the answer is yes! However, there are some additional actions you'll have to take when informing the DVLA, so be aware of these before you start. Have a thorough look for your V5C (the logbook) as it will make things easier. If you can't find it, you could apply for another, but this costs £25. However, if you don't want to do this, you'll need to write to the DVLA to let them know your car has been scrapped. Information you MUST include by law is the vehicle registration number, the make and model, the name and address of the scrap vehicle company you used and the day the car was sold. They'll use these details to de-register your car and update their records.
Has My Car Been Scrapped?
You should receive a Certificate of Destruction (CoD) from the scrap company, which is the valid destruction notice to prove your car was genuinely scrapped. It's vital you receive this after handing your vehicle over to a car scrap dealer, as it confirms your vehicle won't end up back on the road illegally. Always let the DVLA know you've scrapped your car so that they know you're no longer the owner of the vehicle. You can usually do this online.