Most drivers have at some stage in their lives come to the sorry realisation that their car is no longer worth repairing – it's too expensive to justify the cost or has been severely damaged in an accident – and your trusty friend has to go to the scrapyard in the sky.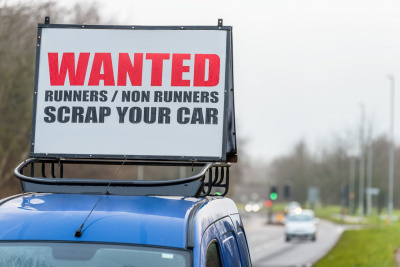 Obviously, it's a bitter pill to swallow and the only way to feel better is to get as much as you can from what is now a pile of scrap.
In recent years, scrap metal values have fallen. With up to two million cars being scrapped annually in the UK, it's not hard to work out why. So, maybe you need to manage your expectations a bit, too.
Wait a minute – can't I sell bits for spares?
It's a job for an experienced amateur or a trained mechanic, so best not to attempt dismantling your car or van if your only experience is changing a wheel. However, if you are nifty with a spanner, have the space, time and inclination, you may find that selling off the component parts would raise more cash. But do bear in mind if you are left with just a carcass, it could be that no one wants that, so you will have to pay to have it removed. In any case, it's a good idea to do your research thoroughly first before you decide to have bits of car or van on your driveway.
It's illegal to buy cars for cash
If something seems too good to be true, it usually is. Beware of enticing signs on lampposts at traffic lights and other sources online offering cash for cars. Since the Scrap Metal Dealers' Act of 2013, scrap cars have to be dealt with by a registered scrap dealer. You also have to prove you are who you say you are, with ID and address. Make sure you really are dealing with a company who will dispose of your car responsibly. Or the experience could come back to bite you, and that fantastic cash price is now not looking so good.
Go for a reputable, reliable company
Of course, a company not playing by the rules (or the law) can always beat a reputable one on price. Also, when you get quotes, make sure you are getting like for like quotes. The company should be properly registered as an Authorised Treatment Facility. They must give you a Certificate of Destruction (CoD) and other documentation to show your car has been disposed of. Beware of companies offering 'Destruction certificates' or similar sounding paperwork – easily mocked up fraudulent forms that look like the real thing but are worthless. Secondly, check whether the company is offering a free collection or whether you have to go there.
If the car is a non-runner or running badly, or not legally insured, this could be a particular problem if they won't collect free of charge. You also need to tell the DVLA you have taken your vehicle to an ATF (you can do this online). Failure to do so could result in a £1000 fine according to the gov.uk website, so best to play by the rules. A reputable company should advise you about all this. You also get any unused road tax refunded.
Wanting to get the most cash for your car?
We offer free collection, aiming to turn enquiries round within an hour.  In business for thirty years, we like to think we know a thing or two about scrapping cars.
With branches over the whole of Surrey and south London, including Oxted, Croydon, Wimbledon and Merton, we are just a friendly phone call away.  Phone 020 8406 4181 for a free quote.