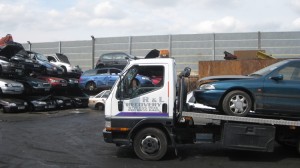 While in the past you may have had to pay to dispose of your unwanted vehicle, today you actually stand to earn money from having your car taken off your hands. So, if your car is past its prime and you're looking to upgrade, or if it has failed its MOT, or has been written off due to an accident, sending it to a scrapyard has its financial incentives.
Today, Car Scrap Surrey is discussing the ways in which you'll earn – and save – money from car scrapping in your area.
Scrap Cars for Cash
When you choose a reputable scrapping service, your unwanted car should stand to garner a decent sum of money. Car Scrap Surrey, for example, offers its customers a guaranteed £100 in cash for any family sized vehicle that it disposes of.
Free Collection Services
While transporting an unwanted vehicle to a scrapyard might be a pricey personal undertaking, choosing the right scrapping service will mean that this is taken care of on your behalf. Car Scrap Surrey is proud to offer its customers a free collection service, which covers the financial, and logistical, considerations for you.
Car Insurance and Road Tax Refunds
As soon as your car has been scrapped and you've received your Certificate of Destruction, you'll be able to claim a refund for any unused months of road tax and car insurance.
Flexibility
Many scrapping services offer a reasonably flexible service, so you won't have to worry about interrupting the important business hours of your day. Car Scrap Surrey, for example, works 24 hours a day, 7 days a week, 365 days a year. Companies such as this, who work to accommodate your timetable, will ensure you'll never have to take unpaid leave from work, in order to have your car scrapped.
So, if you're based in Croydon or Sutton and are interested in making money out of your old car, get in touch with the Scrap Car Surrey team on 020 8406 4181. Call today and see how much you could earn!