"I want to scrap my car for cash in Balham!" Call our car breakers today!
Do you have a dusty old vehicle on your drive taking up valuable space? Perhaps you have had a minor accident in your car and it will cost more to fix it than the car is worth? Or maybe you need some cash fast and your car has failed its MOT? Car Scrap Surrey can help! We make scrapping your car in Balham, Clapham or one of the nearby areas of Surrey stress-free and straightforward. When you scrap your car with us, it will not cost you a penny – we will collect your car totally free of charge and hand over up to £150 in cash!
We will also take care of all the important paperwork for you and issue you with a valid destruction notice to prove that you are no longer the owner of the car. Your car will be responsibly and professionally dealt. We have over 30 years' experience in the car scrapping and scrap metal industry, so you can feel confident that you have chosen the best car scrapping company in the area.
We accept the following cars:
Damaged cars
Non-runners
Flood-damaged cars
Un-roadworthy cars
MOT failures
Insurance write-offs
Junk and salvage cars
Dumped or abandoned cars
Cars that are too costly to repair due to engine of other problems
We offer a 24/7 flexible service to accommodate out customers' busy schedules, so if you have any questions about car scrapping in Balham, please get in touch on 020 8406 4181.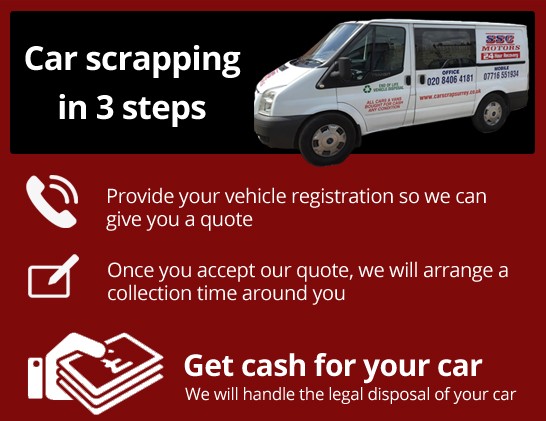 Quality car scrapping and removal in Balham
We know there are other car scrapping companies vying for your business in the area but we offer an outstanding service to our customers and here is why:
Unlike our competitors, we will never charge you for picking up your vehicle or for administration costs
We offer fair prices and as long as the description that you give us matches the reality, then you will be paid exactly what we say
You can make easy money from our car scrapping service because we pay up to £150 for a family vehicle
We accept any car, regardless of its condition, age and model or whether it has a valid MOT
We work 365 days a year and seven days a week and will arrange a mutually convenient time and place (be it your home, office or elsewhere) to come and deal with your car
By scrapping your car, you will know you have done your bit to save the planet and will lower your carbon footprint
Every customer will be issued with an official Driver and Vehicle Licensing Agency (DVLA) Certificate of Destruction, which proves that we have removed your scrap vehicle's details from the DVLA's vehicle registration database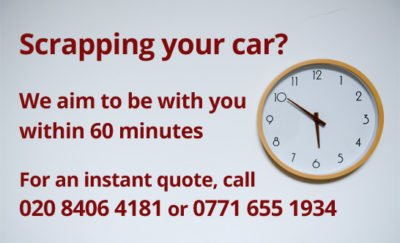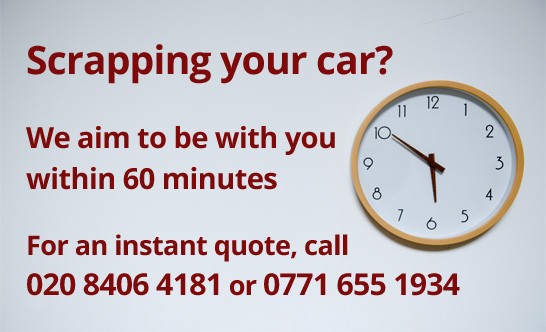 For more details about car scrapping and car recycling in Balham, call us now
Sell your car to us today for scrap and make some cash! Call us on 020 8406 4181 or 07716 551 934 or fill out an online contact form.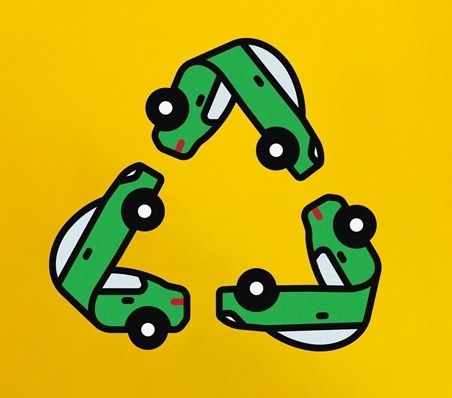 Why does car recycling matter in Balham?
Why is car recycling so important? Used parts and materials from cars and vans can be recycled or reused to stop the amount of waste being dumped in landfill sites. Recycling rates are increasing but so is our car use and the population, so ensuring vehicle waste is properly recycled is more important than ever. Legislation now dictates that 95 per cent of a car has to be recycled.
Working throughout Balham, the team at Car Scrap Surrey are car-breaking specialists. Working from our Authorised Treatment Facility (ATF), we will always ensure that your car is broken down in the right way. You may have never thought about what will happen to your car once it is scrapped but with laws now tighter than ever around this area, we will ensure your car is scrapped the right way. Once your car is scrapped, you will be issued with a Certificate of Destruction (CoD).
Depollution: We remove all hazardous and toxic materials and liquids from your car, such as brake fluid, windscreen washer fluid, and fuel.
Dismantling: Our car breakers will then take out all the salvageable items, such as glass and catalytic converters for reuse. These can save a lot of money over the long term and save natural resources and energy.
Destruction: The car metal shell is crushed and then broken up into small pieces for metal recycling. We are proud of our excellent recycling rates and continue to offer high standards of responsible recycling.
What's more? Our car recyclers will buy any make and model of car and pay you for it. You can have complete peace of mind knowing that your car has been recycled in the most environmentally friendly way.
We pay competitive cash prices for any car or van collected within the marked area.
Read our guide on finding out what your scrap car is worth.
We'll take any non-runner or MOT failure vehicle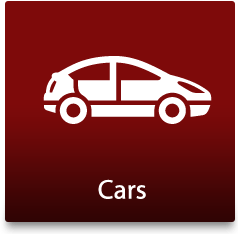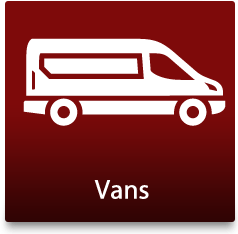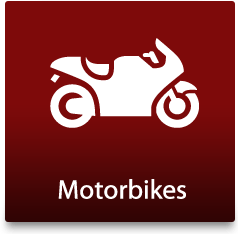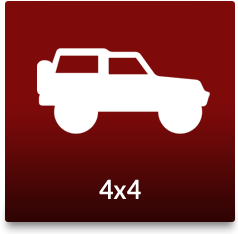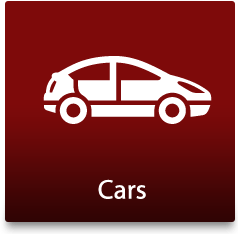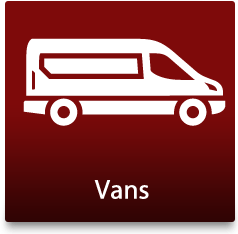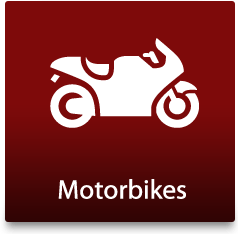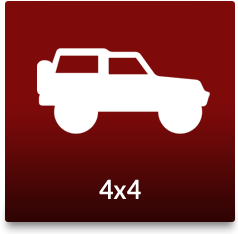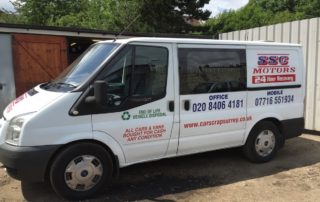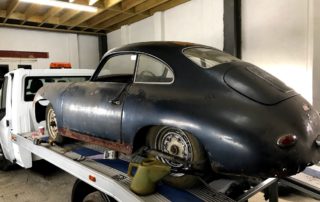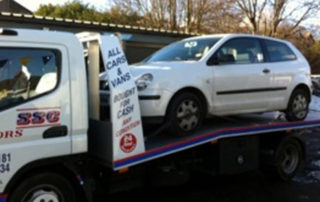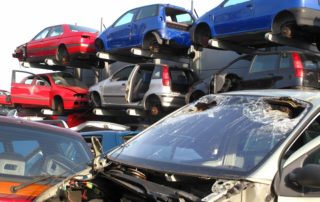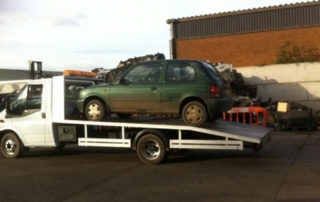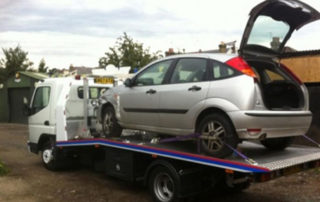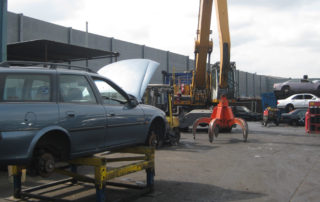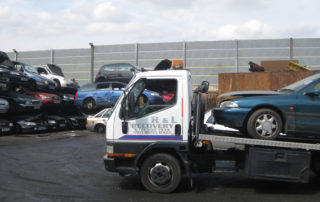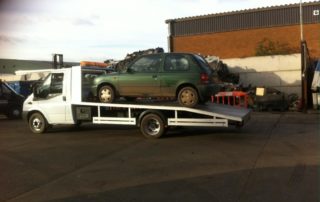 We collect….
Audi, Aston Martin, BMW, Citroen, Fiat, Ford, Honda, Jaguar, Kia, Lexus, Mazda, Mercedes, MINI, Peugeot, Renault, Saab, Skoda, SEAT, Subaru, Toyota, Vauxhall, Volkswagen & Volvo