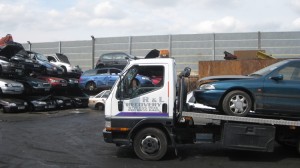 . That's why today, Car Scrap Surrey is offering a few handy tips for doing so.
How to retain or transfer your personalised registration
According to gov.uk, there are a few things you'll need to take care of in order to ensure the retention or transfer of your vehicle's personalised registration number:
You will need to obtain a V317 form from the DVLA.
You can do so, here.
On the V317 form, you will need to fill out various details regarding the vehicle in question, including: its registration number, make, model, and tax disc serial number etc.
To transfer the vehicle registration number directly to another vehicle, you'll need to pay £80, as at the time of writing.
To retain the vehicle registration number, you'll pay a fee depending on the duration for which you'd like it retained. (As at the time of writing, £105 for one year. £130 for two years. £155 for three years.)
In the instance that your vehicle is being written off by your insurance company, you will need to inform them not to dispose of it until the personalised registration has been successfully retained or transferred.
You'll also need to ask them to ensure that the vehicle is available for inspection.
You will need a letter of no interest from your vehicle insurers, confirming that they are happy for you to retain or transfer the personalised registration number.
In addition, you need to acquire a copy of the engineer's report, which confirms the vehicle's details.
Send the V317 form, and all associated documents, to DVLA Personalised Registrations, Swansea, SA99 1DS.
Car scrapping: Have you recently retained or transferred your registration number?
We'd love to hear about your experience. Was it hassle-free? Why not let us know how you found the process via Twitter or Facebook?
Related Posts